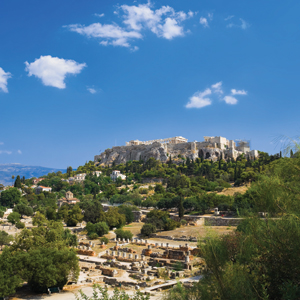 Explore Greece: Athens and the Greek Isles
Explore the fascinating history of the Aegean Sea! Begin your adventure in Athens, the cradle of western civilization, before embarking on your small ship cruise. Visit several islands and ports, with optional shore excursions to iconic places such as Turkey's Ephesus or Crete's famous Knossos Palace in Heraklion. If the medieval castle of Rhodes interests you, opt for the Iconic Aegean that includes an extra day at sea.
Epic West Coast Road Trip
Road-tripping goes to the next level when you're doing it with a crew of like-minded folks in private ride so you don't have to worry about navigating or getting lost. This epic 33-day tour takes you through the best of America's western states, taking in jaw-dropping views from national parks and living your best life in the big cities. You'll get plenty of time in between to explore these destinations with your newfound friends, whether it's hikes through a canyon trail, hopping between Por...